In brushy locations it has occurred to me that I can see a lot more of Alaska by moving my kayak from salt water to fresh water and paddling around a lake or river, instead of trying to explore the land on foot. I have a rather nice Kevlar kayak that only weighs 38 pounds, relatively easy to drag across the land (and that is surprisingly durable). I am rather lazy — obviously I could pick up the kayak and carry it, but in most cases I've weighed the kayak down with camera gear and supplies, and in many locations the majority of the drag is across grassy terrain. Well, that's how I rationalize abusing my kayak.
Here is a short list of places I have portaged my kayak, locations where a relatively small distance separates the salt water from the fresh. I want to emphasize these portages are sometimes rocky in places, rather hard on a kayak, but I find it worthwhile even though I might have to replace my kayak periodically. I should also say that many of these locations are in bear country, so make plenty of noise as you move your boat through the brush.
Unwin Lake, Desolation Sound, British Columbia: Not an Alaska location, but one of my favorite fresh water paddles. Paddle to approximately 50° 7.4' N, 124° 41.4' W, to an obvious trailhead. This is the one location on this list where a set of wheels is essential. Go ashore and wheel your kayak along the trail to the lake. The lake itself is actually in the approximate shape of a horseshoe, with two large bodies of water joined by a small passage. Because of the difficulty of getting a boat to the lake, you will very likely have the lake to yourself.
Knight Island, Soft Lake, Prince William Sound: Anchor in Soft Cove, paddle to approximately 60° 25.85' N, 147° 43.94' W, and in this rugged terrain it might be wise to scout the portage unencumbered before trying to drag your kayak up to the lake (this is a place where the best route is obvious on the ground but hard to put into words). A pretty lake surrounded by high, rugged terrain, with a large stream feeding it at the south end that itself deserves some exploration.
Shrode Lake, Prince William Sound: Anchor in Three-Fingered Cove at the south end of Cochrane Bay. Paddle to approximately 60° 39.02' N, 148° 20.54' W, a trailhead. Drag your kayak across the terrain, but don't follow the trail, instead follow the terrain east, along a string of lakes and ponds (much of this route is paddled rather than dragged). Choose the route that minimizes altitude gain, or walk the entire route in advance of portaging the boat to see which way to go. The total distance is about a quarter mile. Be sure to clearly mark your entry point to the lake — this can otherwise be confusing later on. Shrode Lake is a nice paddle, a roughly round lake with many kinds of life on display.
Eshamy Lake, Prince William Sound: This is a case where the obvious portage when looking at a map (Eshamy Lagoon to Eshamy Lake) is the least desirable way in, for reasons obvious on the ground. The best approach is at the south end of the lake, across relatively open, grassy terrain. In Paddy Bay, paddle to approximately 60° 24.74' N, 148° 6.36' W, a transition zone between salt water and a small lake along the route to Eshamy Lake. Drag your boat across the grassy terrain, first roughly west, then as the brush becomes thick, switch to a more northerly route — or, as before, walk the route in advance to see which way to go. The total drag distance is surprisingly short, scarcely more than 1/10 mile, but there is some thick brush as you approach the lake. The lake itself is large, more than three miles end to end, so be prepared for some exercise. I saw plenty of trout in this lake, mostly congregated at the outlet to Eshamy Lagoon, so if you are a fisherman, that by itself might justify the outing.
Dolgoi Lake, on Long Island (NE of Kodiak City on Kodiak Island): A relatively easy portage of just over 1/8 mile between a salt water bay within Long Island and the lake. Anchor in one of Long Island's two bays, paddle to roughly 57° 46.12' N, 152° 16.45' W, haul out and roll/drag the boat SE, uphill to the lake shore. Because of the relatively clear terrain between the salt and fresh water, kayak wheels make this portage easier. Shaped like an elongated "C", Dolgoi Lake is about 3/4 mile long and offers spectacular coastal views after short walks at each end of the lake. What may at first look like sand bars aong the lakeshore are actually volcanic ash deposits from a big eruption in 1912. A very pretty lake and surroundings.
Some pictures:
Great Blue Heron, Unwin Lake, B.C.

On the salt water side of the
Shrode Lake portage
(my boat in background)

Shrode lake Portage
(it isn't always warm in July)

Eshamy Lake Portage, salt water side

Eshamy Lake Portage, fresh water side

Eshamy Lake, trout gathered
at the outlet to Eshamy Lagoon

Knight Island/Soft Lake Portage,
looking toward the salt water

Knight Island/Soft Lake Portage,
just entering the lake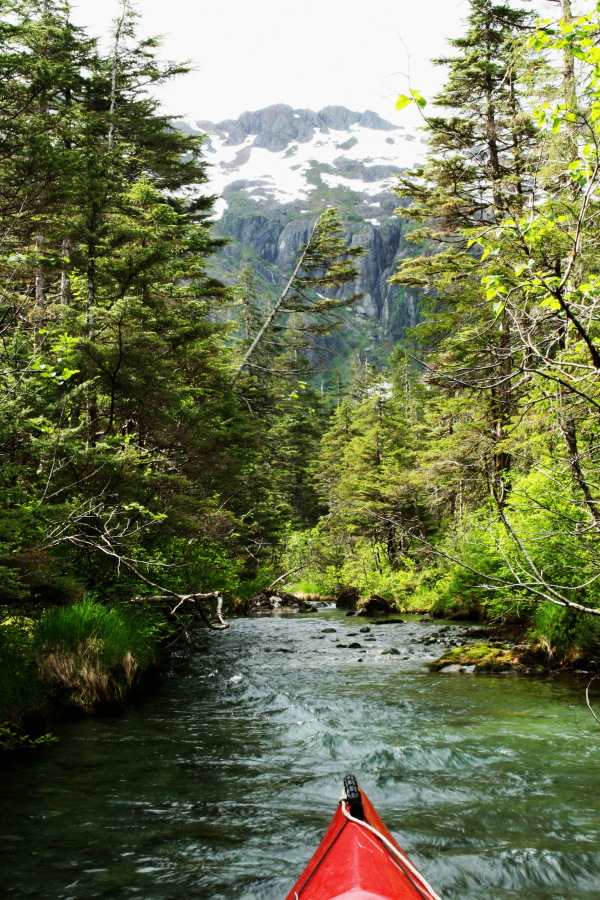 Knight Island/Soft Lake,
in the stream that feeds the lake