Cabin Bay
Cabin Bay is located on Naked Island in Prince William Sound (PWS) (Google Maps). It's positioned more or less in the center of PWS, and it has a mountain that turns out to be ideal for a communications relay station with near-perfect line of sight to all of PWS.
In years past I've visited Naked Island and, because there aren't any bears, camped atop one of the higher peaks, just to have an adventure with a nice view. But over the years a relay station located nearby has gradually become larger and larger, and efforts to power it with wind and solar have become unworkable, so a propane-powered generator now provides electricity for the increasing number of radio transmitters. The generator, which runs 24/7, is rather noisy, so I have given up on that location (near Bass Harbor) and have begun exploring a new anchorage and hiking/camping area in the same island group called "Cabin Bay".
The idea is that, after several weeks of living on my boat, I'm more than ready to carry some overnight gear to a suitable spot and camp out. Also, this part of Alaska has some very pretty places to camp where you won't be eaten by bears. I should add that, in most of Alaska, if you camp out, your chance to be eaten by bears is vanishingly small, especially if you follow some common-sense rules, but the Naked Island group is too small to support a population of bears.
This season, following the pattern described in my other articles, on arriving at Cabin Bay I immediately created an aerial photosphere, hoping to find a more efficient hiking route to a nice camping spot I had scouted out in past seasons. In this part of Alaska the terrain tends to be a mixture of thick brush, tall, dense stands of trees, and open grassy meadows. The trick is to locate a route that moves from one grassy meadow to another until you arrive at your destination, something an aerial photosphere seems perfectly designed for.
Here's a still image, part of the photosphere displayed further down the page, in which I've marked my preferred trail from the shore to a pretty camping spot with a view: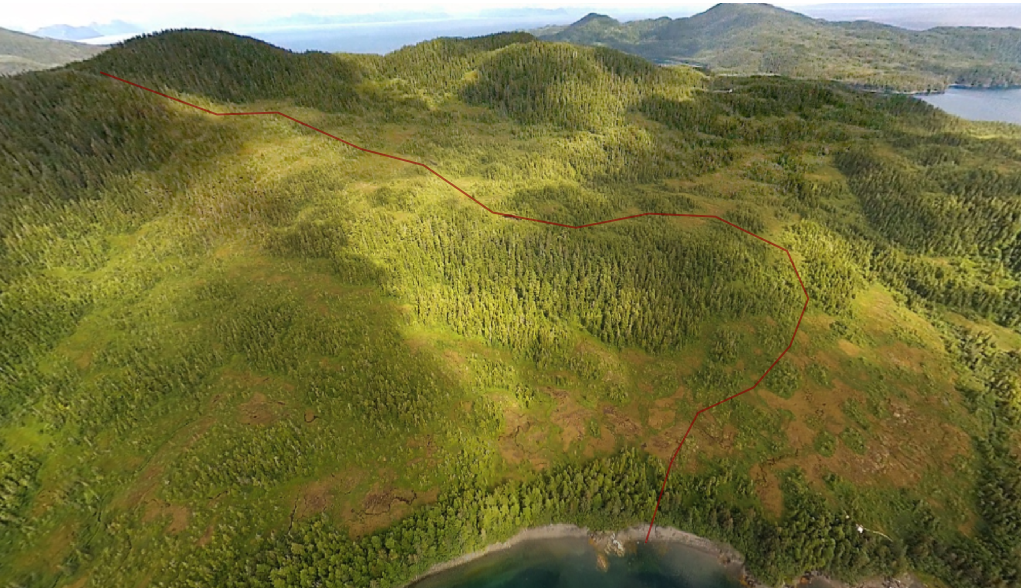 A more obvious route might seem to exist toward the left in this image, but it's much steeper than it looks. One of the few drawbacks to photospheres in route planning is that they tend to make steep terrain look more level than it actually is.
In any case, here's a picture of my campsite along the ridge at the end of the trail shown above, and one of the views I had from there:
A very pretty place, lots of blueberries to eat (those are blueberry bushes surrounding my tent), no competition from other humans, and no bears either. Heaven on earth. Here's the photosphere I used to plan the outing:
---
Photosphere viewer instructions: Use your mouse to navigate the image below. Drag your mouse to pan around the image, and use your mouse wheel to change magnification (on touch screens, use two fingers to zoom in and out). Notice the full-screen control at the upper left.
Cabin Bay, Naked Island, Prince William Sound, Alaska.
Quadcopter location: 60° 39' 27.00" N, 147° 26' 15.00" W. Map
(If you pan straight down, you can see where my boat is anchored.)
---