The Incredible Shrinking Glacier
Mendenhall Glacier is located near Auke Bay, just north of Juneau in southeast Alaska. It is one of the fastest-melting glaciers in Alaska. Here's this year's panoramic view (click the graphic for more detail):

Notice the "Ice Limit 2002" sign at the right. Notice also the near-complete absence of vegetation in the foreground, which is terrain only recently exposed to the environment from beneath the glacier. In 2008 I explored the surface of this glacier, when it was much larger than it is today (and extended across the small bay shown above):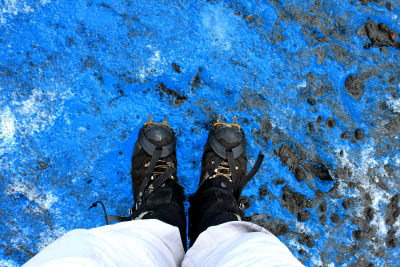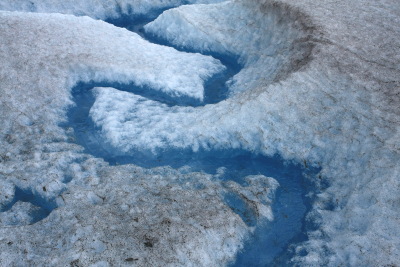 There's a very pleasant hike along a trail accessible from Auke Bay / Mendenhall Lake that I've hiked most years (when the weather has been nice). The rugged trail takes one to the rocky, nearly barren landscape shown in the first graphic above. Until recently I would carry crampons and an ice axe and transition from the trail onto the glacial ice, but because of the glacier's retreat this is no longer feasible.
The locals tell me this glacier is retreating at a rate of one foot per day. As should be clear from the graphic above, the glacier is expected to lose contact with Mendenhall Lake within the next few years (meaning no more icebergs in Mendenhall Lake). Since 1500 A.D. the glacier has retreated over 2.5 miles.
When I hear someone try to say global warming is a myth, I think about how fast this glacier is disappearing.
Be sure to view this photosphere of the glacier and its environs.
Navigate this article set with the arrows and drop-down menus at the top and bottom of the pages.