Coghill Lake Paddle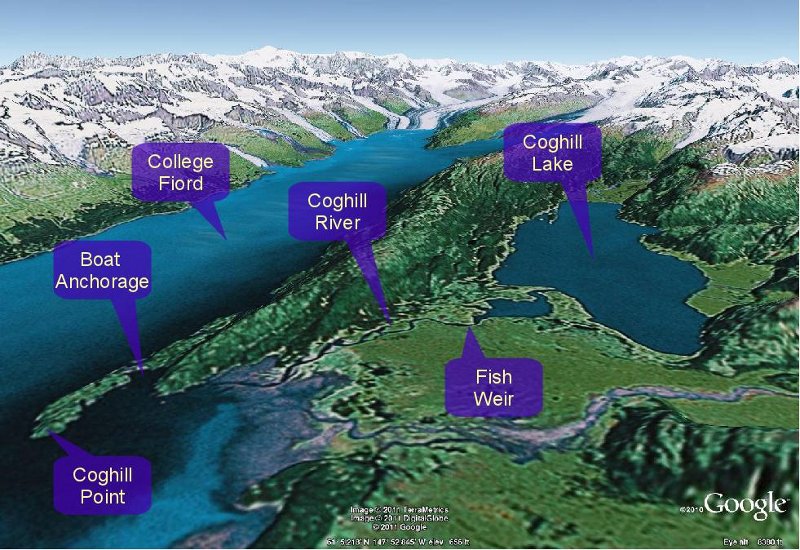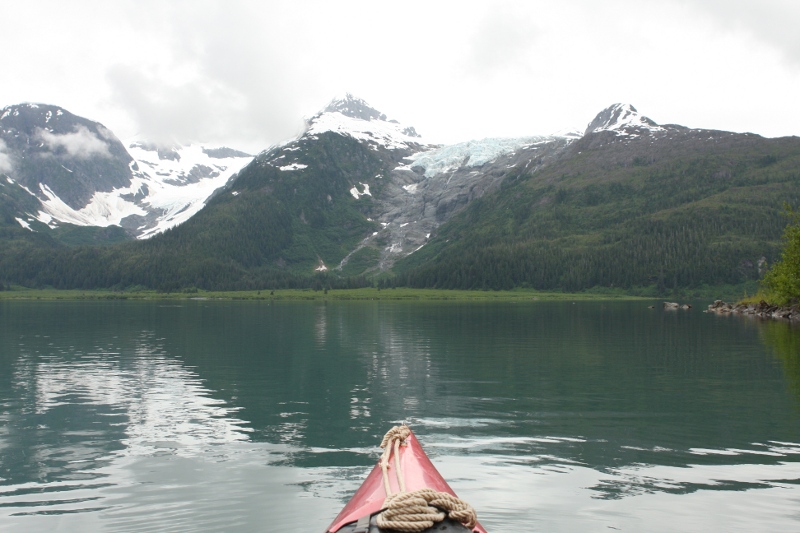 Figure 2: Looking across Coghill Lake
This season I made my second kayak ascent up Coghill River to Coghill Lake. In past years I have walked a trail between Coghill Point and a point just short of Coghill Lake where there's a wilderness cabin, but one cannot see Coghill Lake from the trail, and because of thick brush and water there are few options for exploration past the end of the trail. Also, much like the trail at Shrode Lake I mentioned earlier, the Coghill Lake trail is an unnatural disaster. Consequently, over a period of years, and just as with the Shrode Lake trail, I realized I would expend less energy and see more of the country if I ran my kayak up Coghill River instead of using the trail.
One difference between the Shrode/Jack Lake portage described earlier and the Coghill River ascent is that Coghill River is rather swift — currents exceed six knots in some places. I can sprint my kayak at six knots, but this is not something I can maintain for long spells. Also, consider that if I managed to paddle at six knots I could only match the river's current, which means I wouldn't be moving. So I normally ascend Coghill River by paddling in some places, and dragging the kayak along the shore in others. The distance from the boat anchorage and along the meandering river is 2 1/2 nautical miles to the fish weir (pictures below) and another mile to Coghill Lake, total 3 1/2 nautical miles. It's easier than it sounds, and it's quite an adventure.
This season saw a spectacular Alaska salmon run, and the fishermen I met seemed to be happy. In fact, while paddling the river I could feel the salmon moving beneath my boat (a thin-hulled Kevlar boat easily transmits water vibrations to the paddler).
Near the top of the river ascent, there is a fish weir that, among other things, is used to measure fish populations. It turns out that aquaculture salmon are of the Atlantic Salmon species, which, if they escaped from the many aquaculture sites (i.e. "fish farms") in sufficient numbers, would compete in the wild with native Alaska salmon. So at the fish weir there is an ongoing study to catch salmon under controlled conditions and determine their species — see how many salmon are escaping from fish farms. Based on the remarks of the researchers I talked to there, the answer so far is "not many".
This year there were many more fishermen on the river than usual, in fact many of them arrived in float planes — apparently kayaking up Coghill River isn't to everyone's taste.
The real payoff for this outing is to be able to paddle out onto Coghill Lake, a very large lake in a spectacular setting. I had hiked the Coghill Lake trail a number of times before realizing I might never actually see Coghill Lake unless I paddled the river instead. In Figure 2 above you can see the view one gets on the lake.
| | |
| --- | --- |
| Fishing camp along the river | Researchers sampling local salmon stocks |
| Fishing for salmon in Coghill River | Happy Angler |
| Float-plane parking lot | The wilderness cabin, plus airplane |