Geographic Harbor
Geographic Harbor is located on the Alaska Peninsula, about 270 miles SW of Anchorage (Google Maps). Over a decade ago I heard rumors that it was a terrific bear photography area, and that turned out to be true. Since then I have visited during my Alaska cruises, equipped with a large telephoto lens to capture bear pictures from the deck of my boat without wandering around on the land and maybe being eaten by the bears.
Here's a typical image from a bear-photography expedition in 2012: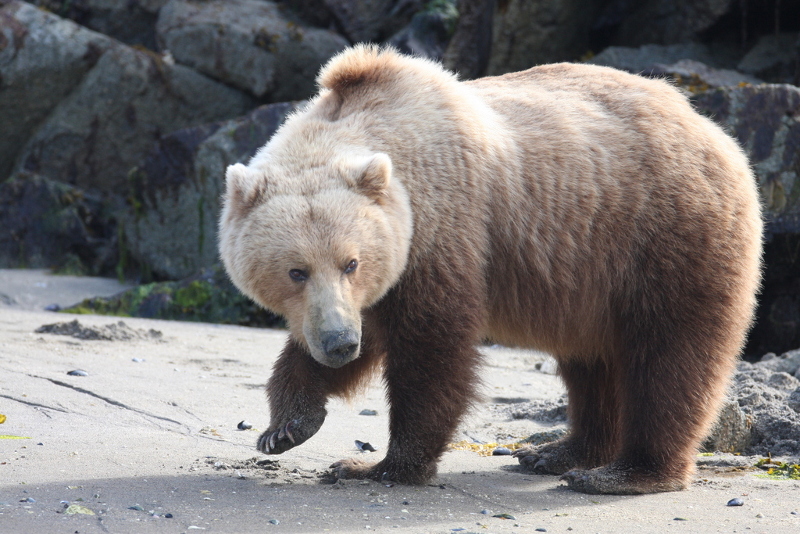 Remember about pictures like this that I'm using a large, very long focal length telephoto lens and I'm not nearly as close to the bear as it might seem. I'm not even on the land with the bear — for these pictures I use a heavy tripod located on my boat.
One photographic problem I've had in the past is that my equipment is ideal for wildlife pictures like the above, but not so great for capturing the beautiful Alaska landscape. This year I solved that problem — a camera-equipped quadcopter is a perfect way to capture landscape images, and a photosphere is a perfect way to display the results. And Geographic Harbor is an ideal place for this approach — it's very beautiful as well as an education in geology.
---
Photosphere viewer instructions: Use your mouse to navigate the image below. Drag your mouse to pan around the image, and use your mouse wheel to change magnification (on touch screens, use two fingers to zoom in and out). Notice the full-screen control at the upper left.
Image Notes:
---
Geographic Harbor is a very pretty place, with dramatic cliffs and geological features in all directions, and until this season I've regretted not being able to portray the environment in a way that I thought it deserved. Quadcopter, photosphere, problem solved.