Long Island
The "Long Island" I refer to (there's at least one more Long Island in Alaska, and plenty elsewhere) is located near Kodiak City in the Kodiak Island group. It's owned and operated by a village corporation of indigenous peoples, and to get off their boats and walk on the land, non-native visitors need to acquire a permit (more information here).
I've been visiting Long Island for many years. It has a number of attractions, not least of which is its proximity to Kodiak City, so while waiting for repair parts or for other reasons, I can anchor at Long Island and explore its very interesting terrain rather than live in town.
To anchor securely inside Long Island's largest bay, until this season I navigated a rather shallow and narrow entrance that isn't charted very well and that's a bit risky in a large boat like mine. But remember this year's topic — photospheres! Using aerial photospheres I was finally able to properly survey the entrance to the island's most sheltered bay, and with accurate information, the approach is quite safe.
One more crucial detail. My quadcopter stabilizes itself using GPS navigation, and when I start the drone's video recorder, it stamps the video file with the GPS coordinates that are true at that moment. I then recover that position while processing the images. By this method I can correlate image locations with geographic ones. This capability was especially important for one of the photospheres I discuss below.
Disclaimer: before getting into a discussion of navigating Long Island's shallow entrance to Cook Bay, I want to emphasize that this is my opinion, nothing more, it has no official standing, and if you use this page's information for navigation, you're on your own.
First, before the details, let me present my favorite Long Island aerial photospheres, which should give you some idea of the beauty of this place:
---
Photosphere viewer instructions: Use your mouse to navigate the image below. Drag your mouse to pan around the image, and use your mouse wheel to change magnification (on touch screens, use two fingers to zoom in and out). Notice the full-screen control at the upper left.
Image Notes:
---
Discussion: Existing charts for this island are insufficiently detailed, offering little useful guidance for this approach. In fact, the best available chart (16594) is misleading about the optimal entrance path and the deepest water (the colored dot is the drone's position from photosphere #5 in the above image set):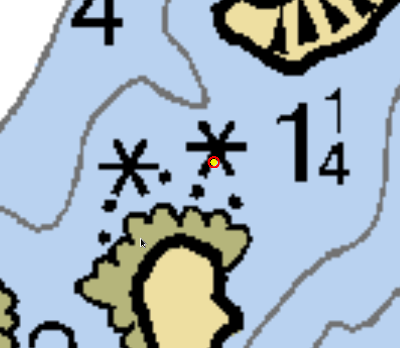 As it happens, for years I've been relying on chart 16594 and skirting around a reef that isn't actually located where it's charted, when it seems I should have been steaming from the WNW to a point just SW of the obstacle's charted position (colored dot above) to find the deepest water. But once again, this is just my opinion and people should use their own judgment in entering this bay.
Summary: Long Island is a very interesting place to visit, and it has a lot of history. One can find the remains of an old radar station with tower and antenna from the Second World War, some ruins of quonset huts, huge concrete bunkers designed to survive heavy artillery bombardment, and other historical artifacts. There are many nice hikes and scenery, and on a sunny day you may think you've died and gone to heaven. And unlike most places I visit in Alaska, there aren't any bears, so camping is a possibility (with the correct permit).