Granite Bay
Granite Bay is one of my favorite hiking locations in Prince William Sound (PWS). Unlike most Alaska hiking, there are open expanses of bare bedrock across which one walks to get to one's destination. Typical Alaska hiking is more like pushing or cutting brush out of one's path, along a trail that's not actually visible to the person doing the walking. Here are some links to drone-based aerial photospheres with notes:
As with the other articles in this set, and before I had a way to get aerial views, I spent years discovering all the wrong ways to ascend the mountain, and there are many. There's something deeply satisfying in the experience of ascending through a relatively sparse stand of trees and emerging onto a large expanse of bare granite that slopes beckoningly upward to the top of the mountain. The bedrock surface might as well have been designed for easy ascent — an accidental granite walkway.
Here's a vertical panorama, knitted together (using Hugin, a nifty free program) from three images selected from the primary quadcopter image set used to create one of the photopheres listed above, with the primary trail marked: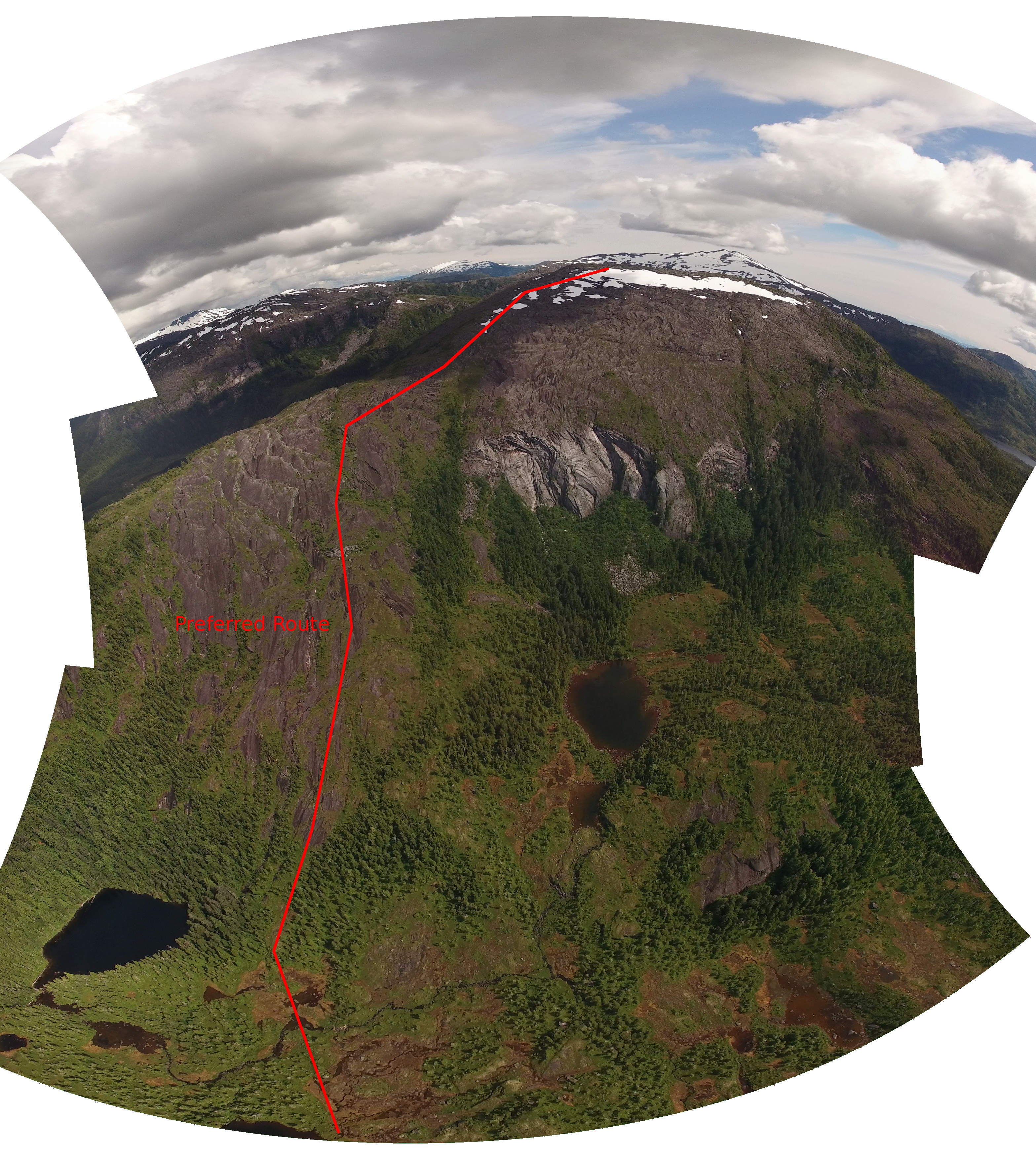 Granite Bay Panorama (click for full size)
Granite Bay is a classic example of Alaska mixed terrain. Having explored it and found efficient hiking routes, I'm sometimes deluded into thinking it represents an exception to the rule that Alaska terrain is very difficult and requires a lot of energy. But if I act on that conjecture and explore a new patch of ground, I'm likely to find a route designed more for mice than men (meaning penetrable only by small rodents).
But the views in all directions on top of the granite peak, on a sunny day, make it all worthwhile.
Navigate this article set with the arrows and drop-down menus at the top and bottom of the pages.